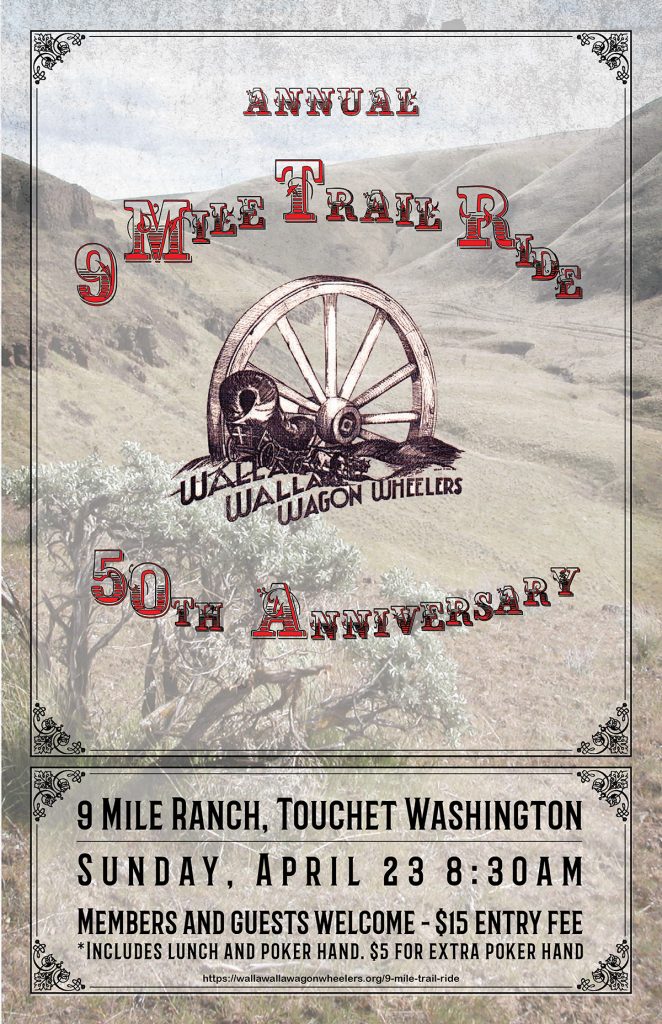 The Walla Walla Wagon Wheelers invite members and guests to take part in a fun horse ride at 9 Mile Ranch.
Gate opens at 8:30 am and closes at 11:00 am
$15 entry fee which includes lunch and a poker hand. Additional poker hands are $5 each.
This is a great first ride of the season open to all members and their guests. Our club is very fortunate for the generosity of the 9 Mile Ranch allowing us to use their ranch for this ride. Thank Kristen Dykes for this great opportunity. The ride covers approximately 7-10 miles across rolling hills. The pace is easygoing, with the entire ride taking approximately 2-3 hours. You will get a chance to get a close look at some of the big wind giants on the ridges. The weather can be highly variable, BUT If it's clear the views are spectacular! The past few years we have been very fortunate, and winds have been light, and no rain…. BUT be prepared for conditions that may not be so grand! The winds can be strong and rain is always a possibility! All riders must complete and sign a liability release. Rider fee is $15 that includes  BBQ lunch and one poker hand. Each additional poker hand will be $5 per hand, the winning high and low hands split 50% of winners and 50% goes to our scholarship fund. Riders ride in groups with a "guide" to ensure all get to the right places and thru the right gates, and that those gates are closed etc. Stay with your guide and show respect to the property leaving it cleaner than you find it.  First group out usually departs the staging area at 10am sharp. Registration is open at 8:30am; last group will depart at 11am. No riders will be allowed to ride out after registration closes, so PLEASE be registered to ride on time. There will be a portable toilet with hand washing on site. Coming from the West – follow Hwy 12 past Lambdom Road and coming from the East follow Hwy 12 past the 9 Mile Ranch, watch for signs to turn off point for staging area. We need help to man registration, poker hand checkpoints, and cooks for lunch at cow camp Hope to see you there! For information call Andy 541-667-7131 or AJ Smith 509-301-2903
No overnight camping on site.